If you ask any woman, she will tell you how she loves a man in a well-fitted formal check shirt. While not every man may like wearing formal outfits all the time, it is safe to say that women have a thing for this wardrobe staple more than anything else. Unlike casual t-shirts, check shirts for men have the power to elevate the entire wardrobe and leave a lasting impression. 
If you are looking to elevate your everyday work style with a fresh twist, look no further than incorporating some stylish check shirts in your wardrobe. When we talk about men's fashion, we see a lot of new trends that have become internet sensations in recent years.
However, throughout these years, check shirts for men have continued to stay ahead of the trend and give a persona of a classy appearance and aesthetically crisp look. If your collection of check shirts is lying untouched at the back of your closet, it's time to bring them out for an outfit makeover. To find more, keep reading the blog till the end.
Tips to Master the Art of Styling Siyaram's Check Shirts for Men
Classic Combination of Black Pants with Check Shirt
The key to a well-put outfit lies in your ability to align your top and bottom wear. Black formal pants are a common wardrobe essential that can be found in every man's closet but still, a lot of people find it difficult to pair it with the right top wear.
The best escape to this confusion is black pants paired with a neutral color check shirt. The fusion of black pants and a shirt has the potential to create a powerful and confident look, no matter if you are going to work, meeting business clients or attending any wedding function.
Master the Layering Trend like a Pro
The art of layering a check shirt is another excellent method to intrigue depth in your outfit. The layered look is easily attainable with a plethora of options of garment choices like shirts, sweaters, and more. The first step to curating a layered look is to choose the base layer for wearing underneath. A round neck t-shirt is an appropriate option that is comfortable and breathable.
The second and last layer can be anything from a denim jacket to check shirts. These shirts should be large as compared to the base layer. The fabric should be lightweight and comfortable enough to be worn easily during the summer season. You can also leverage the check shirt for men as a base layer and pair it with a denim jacket, striped sweater or a thin cardigan.
To Hit the Street Style Fashion
Street style fashion is undeniably one of the most sought styles by men as it offers both comfort and a cool appearance. The blend of a check shirt for men layered over a comfortable base layer creates a fashionable look. Last but not least, pairing the outfit with a funky pair of sneakers provides both ease and a trendy vibe.
For incorporating street style in an everyday subtle fashion, upgrade your bottom wear with trendy sweatpants. Make sure the outfits you choose are loose-fitted but don't look baggy. Based on these looks, you can showcase your inner street-style fashionista and feel your best.
The Ultimate Collection of Check Shirts for Men
Hampstead Men Slim Fit Checks Casual Shirt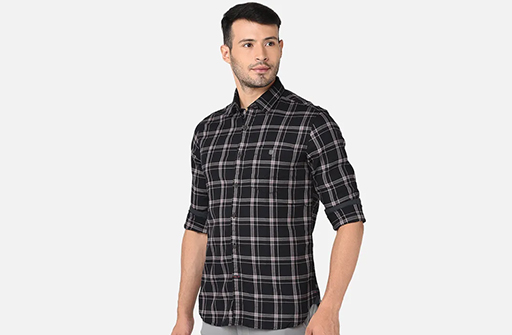 This slim-fit casual shirt from J Hampstead is crafted from 100% cotton fabric. These shirts offer seamless comfort and ease during the summer season without causing sweating. The solid color design makes them ideal for any occasion, be it formal or casual.
Mozzo Men Slim Fit Checkered Casual Shirt
This premium-looking shirt by Siyaram is made from high-quality cotton with a breathable texture and ensures it stays comfortable throughout the day. This fashionable cotton shirt can be paired with formal trousers, denim jeans and chinos.
Oxemberg Men Slim Fit Checks Shirt
The check shirt for men in white color is made from 100% cotton and is durable and long-lasting. This well-made and sustainable cotton shirt offers a classic and timeless look with full sleeves and a crisp look. 
The Final Thoughts
Checkered shirts for men are essential to every man's wardrobe collection. With a wide assortment of colors, prints and designs, you can easily choose the perfect pair for your bottom wear from the exclusive collection of Siyaram. 
You can take styling ideas from the above-mentioned looks and create a multitude of attractive looks using the same check shirt. For finding top quality check shirts for men, don't hesitate to check our website and discover your favorite piece to achieve your dream wardrobe.