A 
check shirt for men
 is a staple when it comes to men's wardrobe-essentials. With its abundance of mix and match possibilities and its ability to blend perfectly into any wardrobe, it's no wonder that there isn't a man who wouldn't want a few checked shirts in their closet. An important part of this versatile shirt stems from being able to correctly style each one. In fact, there are numerous ways to present classic checks in an entirely new way. With so many check shirt variations out there, you could get lost in the styles forever! To help you feel some relief from looking for the perfect patterned shirt for your wardrobe, we bring you our ultimate guide on styling the best-checked shirts.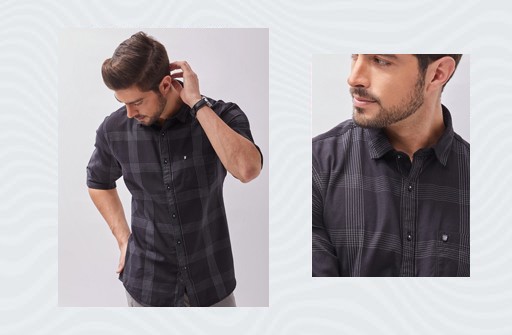 It is the quintessential shirt for any casual occasion. Whether you are attending a get together, a brunch with your old friend, or even college, the Black Checked Shirt will always make you look your best. What is the best way to style a black checked shirt? This is a question that many men must have wondered but few have found a definitive answer. Wear this black checkered shirt with black or blue jeans and a white t-shirt underneath. Complete your look with white sneakers, a watch and cool sunglasses.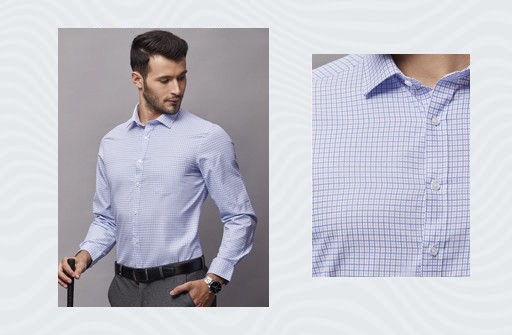 The check shirt for men is a timeless piece; you can dress it up and down depending on the occasion. While it is generally considered to be a more casual shirt, it can be dressed for a formal event with the right accessories to create a sophisticated look. For a formal occasion, pair your check shirt with a blazer and formal trousers.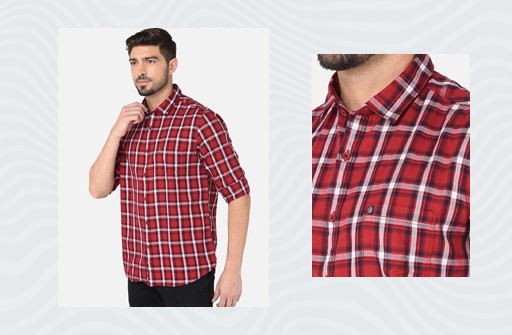 When it comes to fashion men do not experiment a lot and stick to their basics but a hint of colors doesn't hurt much. Add a dash of color to your wardrobe with this red checkered shirt. These perfect, good-quality shirts are ideal for casual wear and you can also wear them for your next date at any cozy cafe. Vibrant color options ranging from red to royal purple make these shirts a great addition to any man's closet!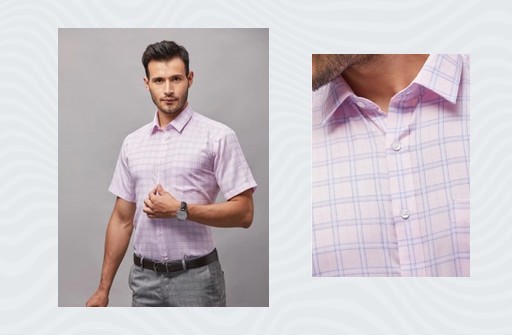 If you love wearing check shirts but your work environment doesn't allow you to wear the above-mentioned casual shirts then go for a half sleeve checkered shirt. These shirts are best to showcase the elegance and sophistication of formal attire. Opt for a neutral-colored shirt with chinos or any tailored trousers, pair it up with loafers or formal lace-up shoes. 
FACTORS TO KEEP IN MIND WHILE BUYING A CHECKERED SHIRT
MATERIAL : 

There are a variety of different fabric types that are used for a check shirt. The three most popular types of fabric are cotton, polyester and woven. Each has its unique benefits and drawbacks. Cotton is the most popular type of fabric, as it is soft, durable, and absorbent. Polyester is a synthetic fiber that is durable, wrinkle-resistant, and shrink-resistant. Woven check shirts are accurate for winters. It gives a perfect amount of warmth as well as style.
SIZE AND FIT TYPES: 

When it comes to finding the perfect checkered shirt, size and fit are extremely important. Size and fit types also depend on you, if you are fond of a baggy look then you can go for an oversized shirt and if not you can stick to the regular size. The shirt should also be long enough so that it covers you properly.
OCCASION: 

As mentioned above you can style your check shirt in multiple ways. For a casual look, pair a shirt with jeans and sneakers. For a dressier look, try pairing the shirt with 

formal trousers for mens

. A check shirt can also be worn under a blazer or suit jacket for a more polished appearance.
If you're looking for more fashion inspiration, you can always come back to 
Siyaram
. Also, do not forget to explore the wide range of apparel from Siyaram. Shop now!