When it comes to versatile and stylish clothing for men, denim jeans for men are at the top of the list. They are perfect for any occasion, from casual outings to formal events. However, with so many styles, fits, and washes available, it can be overwhelming to find the perfect pair of jeans for men.
In this ultimate guide, we will provide you with everything you need to know to get denim done right.
Everything you need to know to get denim done right.
Fit matters the most in clothing and especially in the case of denim jeans. The right fit can make all the difference in how comfortable and confident you feel in your jeans. Furthermore, there are various types of fits available, including slim, skinny, straight, bootcut, and relaxed. Moreover, the best fit for you depends on your body type, personal style, as well as, occasion.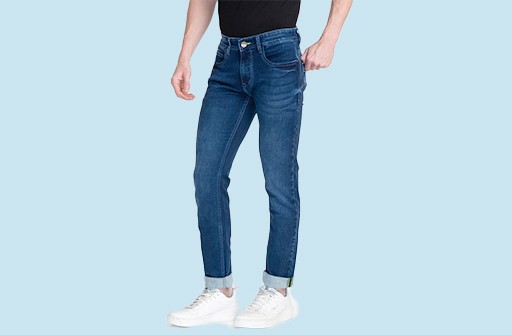 The wash of your jeans for men is the colour and finish of the denim. From dark wash to light wash, there are various shades available to suit your preference. Dark wash jeans are versatile and can be dressed up or down, while light wash jeans are perfect for a casual look. Suit yourself as per your taste.
The material of your jeans is another important factor to consider. Denim is typically made of 100% cotton, but some jeans may also contain a small amount of stretch material such as elastane. For all-day ease, stretch denim jeans for men should be considered as they provide greater flexibility and mobility.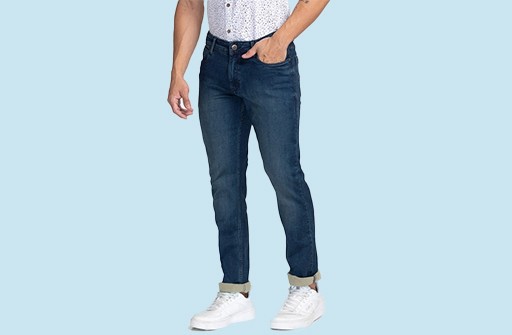 Investing in a high-quality pair of jeans is worth the investment. Quality denim lasts longer, looks better, and feels more comfortable than cheaper alternatives. Look for jeans with quality construction, durable stitching, and high-quality fabric. Hence, purchase your favourite style of jeans from Siyaram's.
Jeans for men are versatile
Jeans are one of the most versatile pieces of clothing in your wardrobe. Furthermore, they can be dressed up with a blazer and dress shoes or dressed down with a t-shirt and sneakers. Choose a classic style and wash for maximum versatility.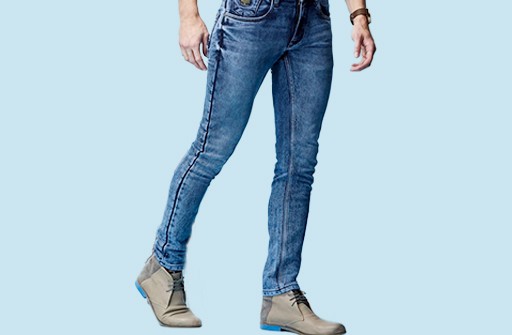 Jeans for men are low maintenance
Properly caring for your jeans is essential to ensure they last longer and look their best. Avoid washing them too often, as this can cause them to fade and lose their shape. When you do wash them, turn them inside out and use a mild detergent on a cold wash cycle. Hang dry your jeans instead of using a dryer to prevent shrinking.
Now, the question arises,
Which are the common denim fits available for men?
Skinny: Look trendy and sleek with skinny pair of jeans for men. This style is better described as a tighter fit with a tapered leg opening. It is low to mid-rise with a zip fly. Moreover, it is skinny from hip to hem.
Slim: Neither too tight nor too loose, slim jeans is just right for men who want to be the centre of attraction wherever it goes. Speaking about the waistband, it's mid-rise with zip fly. Straight across the hip and thigh with a slimmer leg opening.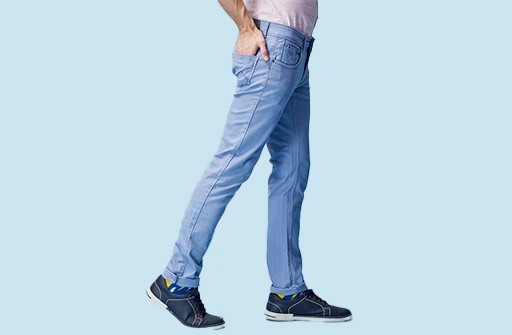 Regular: The regular-fit jeans feature a mid-rise waistband. The trouser leg has a rather broad leg opening that runs straight through the hip and thigh and falls straight from the knee to the hem.
Relaxed: Relaxed denim fit is considered a loose fit from the waist to the leg opening. Furthermore, this jeans fit will not hug any part of your body.
Loose: A baggy or loose fit is one of the roomiest fits of jeans that offers an adequate amount of space around thighs, legs, and butt for men who need it.
Denim jeans for men are a staple in every man's wardrobe. By choosing the right fit, wash, material, and quality, you can ensure that your jeans look great and feel comfortable. With these tips, you are well on your way to getting denim done right.