As you may already know, men's solid casual shirts are essential to any man's wardrobe. But does that mean you should disregard them? Certainly not. We all know casual shirts are necessary for spontaneous outings and last-minute meetings. Furthermore, floral casual shirts or even casual button-down shirts are an excellent choice for a casual brunch!
Men's solid casual shirts are versatile and can be worn with various outfits. You can, for example, wear a casual long-sleeve shirt with chinos and trendy shoes. You're already dressed and ready to go! When it comes to casual shirts for men, however, more is more. Why? You may wonder why men's simple shirt styles are so popular.
When you're tired of those sleek formals, stylish casual shirts for men are a great alternative. When it comes to stacking their favorite casual shirts, men have a distinct preference. Let's find out what yours is! 
Do you want to see what the best casual shirts for men look like? Continue reading because Siyarams has curated a collection of dapper-looking men's solid casual shirts.
Oxemberg Men Maroon Slim Fit Solid Casual Shirt
Do you want to be fashionable? Then this Oxemberg Men solid casual shirt will be your best friend! They are designed to add style and comfort to your everyday look. These shirts are one of the hottest trends for 2023 and are a must-have in your wardrobe. You can wear and pull it off great at pool parties or a casual get-together with friends. Nothing says "fun and relaxed" as a man dressed casually in a printed shirt.
J. Hampstead Men Slim Fit Solid Casual Shirt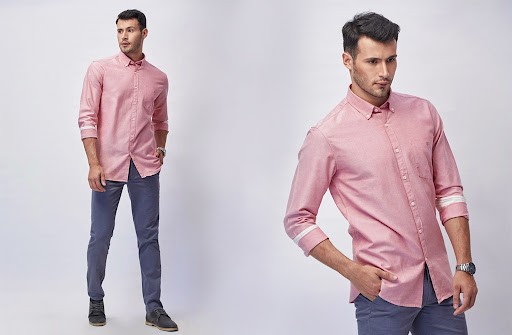 J. Hampstead slim-fit casual shirts are trendy in men's fashion. Do slim-fit casual shirts have a lot of advantages in the business world? Slim-fit casual shirts make you look presentable and professional. They have been tailored to fit your body and provide a classy look while highlighting your physique. It also adds a more modern touch to your outfit. Longer, looser sleeves, a larger silhouette, and a relaxed neckline characterize relaxed-fit casual shirts. If you sweat a lot, these casual shirts are also ideal for spring and summer. Relaxed-fit casual shirts are both comfortable and fashionable for any occasion. 
Oxemberg Men Bronze Slim Fit Solid Casual Shirt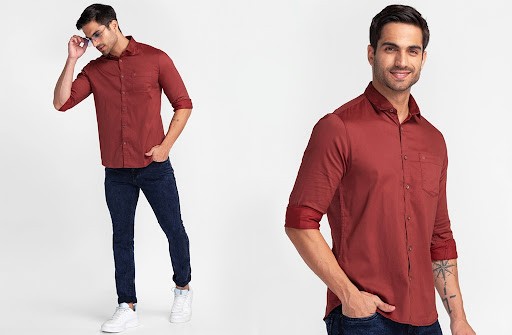 A skinny-fit casual shirt is ideal for athletes, my friend. Skinny-fit casual shirts have a narrow, close-fitting cut in the shoulders, waist, and hips, and they may contain elastic fibres to create skin-hugging material. The primary goal of skinny fit is to improve your physical appearance. These are ideal for formal meetings or interviews. With our variety of casual shirts for men, you can look professional and feel comfortable inside.
Solid casual shirts for men are considered one of the most recent trends because they provide comfort to the wearer. It is a popular piece of clothing in men's wardrobes. Casual shirts must be kept on hand in your capsule wardrobe. You may be wondering what that is. A capsule wardrobe is a collection of clothing made up of interchangeable pieces to maximize the number of outfits that can be made.
Casual shirts are timeless men's clothing ideal for the office and after-work drinks; printed casual shirts are an easy change-out option for a more contemporary look. Finally, a solid white casual shirt can be dressed up for a perfect date night.