Formal trousers for men
may be the one category of clothing that men experiment with the least. That is why we have assembled some of the coziest and coolest sets of trousers for you to choose from. The fabric or color of your pair can all make a fashion statement, but the cut of the trousers is an essential factor. From classic tailored pairs to all-over pleated pairs, these are some of the best in the market this season across price ranges. Scroll down to find "the one" for you!
SLIM FIT CHECKERED TROUSERS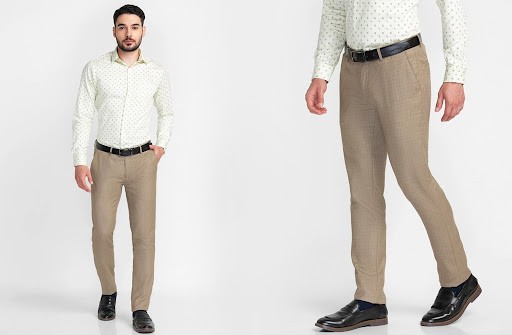 This season, it's not just about the material but also the fit. If you're going to break your denim trend, why not start with a pair of formal trousers for men that are completely different from your go-to 
jeans
? Slim-fit checkered trousers are an easy way to update your wardrobe, but we guarantee they'll become one of your favorites. If you've previously prayed at the altar of skinny jeans, the breathing space provided by a tapered cut will make these the most comfortable pair of trousers you've ever owned. Plus, an extra couple of inches above the ankle gives you more room to show off those bold, season-appropriate formal shoes.
SLIM FIT PRINTS FORMAL TROUSERS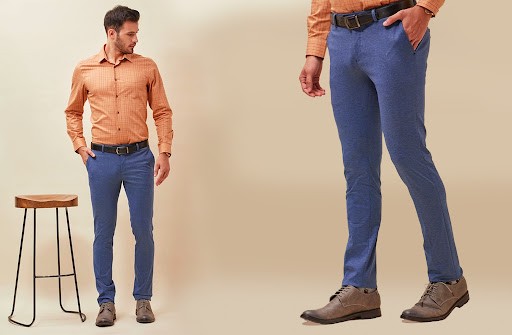 Slim-fit prints formal trousers, as they are more commonly known, are designed to fit snugly around the waist. Always wear pants that fit perfectly and can be worn without a belt, and remember to tuck your shirt in when trying on Dress pants. Tucking your shirt in will highlight your best features for a corporate look. Pair black pants with a crisp off-white shirt and a checkered tie. Choose a bold tie to make this classic look stand out. Remember to complete this corporate look with formal shoes. Pair cream-coloured dress pants with a dark green shirt, a brown leather belt, and brown loafers to achieve your killer look
SLIM FIT CHECKS MEN FORMAL TROUSERS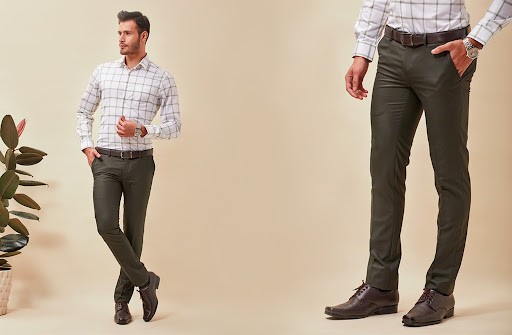 Slim-fit trousers for men are a stylish and easy way to show off your style while enjoying a comfortable outfit. Get them tailored to fit your frame, then dress them up with a blazer and darker tones or down with a tee and lighter shades. Combine a crisp white shirt with a navy blue blazer and slim-fit pants. Wear formal black shoes with this outfit at all times. Consider wearing a white round-neck tee with black slim-fit pants and a blazer and finishing the look with loafers or formal shoes.
CHARCOAL SLIM FIT BLACK FORMAL TROUSERS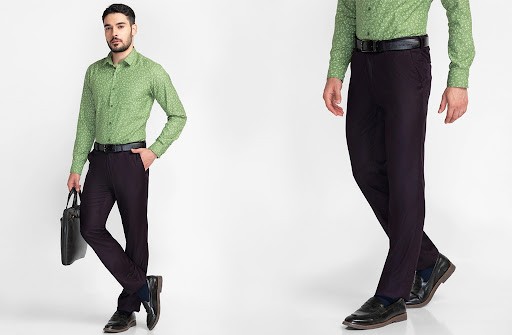 Are you one of those people who can't pull off skinny-leg pants? Slim fit-leg trousers are an option for you. It has made its mark and stood the test of time since the 1950s. They are wide and comfortable for everyday use.
The biggest challenge for trousers is their length. It's quite difficult to get it right. Are you seeking something comfortable to wear all day long? These formal pants are the ultimate solution you can rely on. Because it is a versatile piece, how you style it depends on the occasion. Sweatshirt men can be achieved by pairing it with a shirt and tie or sneakers.
Aside from that, all pants must be the appropriate length because nothing looks shabby, like a pair of pants that are too long from the bottom. Always check that your pants are not too tight and that there are no creases near the pockets. Choose materials that do not crinkle easily, as this looks terrible from behind, especially when the blazer is removed! Concentrate on the quality of clothes more than quantity, as "quality matters more than quantity". Always remember to dress appropriately!